Dicing Knight. (WonderSwan)

| | |
| --- | --- |
| Developer | Platine Dispositif |
| Publisher | Qute Corporation |
| Genre | Roguelike |
| Released | May 31, 2004 |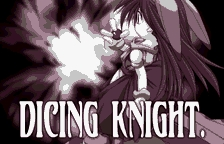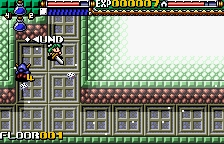 Achievements
There are
22
achievements worth
263
(11246)
points.

Shield Bash any non-boss enemy after delivering a Killing Blow but before the dice has rolled.
247 (122) of 247
(100.00%) players

Kill 5 Mines in any dungeon before they explode
4 (3) of 247
(1.62%) players

Kill 3 non-boss enemies without using any Special Attacks while time is frozen.
15 (13) of 247
(6.07%) players

Roll at least 50 Dice on a single floor of any dungeon without letting the Dice Foresee buff expire.
31 (22) of 247
(12.55%) players

Win your first ticket defeating Fafnir, "Blow" it on the Lottery, and win your second ticket defeating Samsara (No orbs, No warp glitch, New save only)
1 (1) of 247
(0.40%) players

Defeat Samsara in Shootingstar using at least 1 red, 1 blue, 1 purple, and 1 yellow orb (No warp glitch, New Map on load)
2 (2) of 247
(0.81%) players

Defeat Leocadia's Toys of Jabberwock without picking up any additional health potions the entire run (No warp glitch, New Map on load)
1 (1) of 247
(0.40%) players

Defeat Leocadia's Toys in Jabberwock without being hit by any of his black holes (No warp glitch, New Map on load)
1 (1) of 247
(0.40%) players

Defeat Forbidden Honahora of Quetzalcoatl without picking up or using a Floor Map the entire run (No warp glitch, New Map on load)
1 (1) of 247
(0.40%) players

Defeat Ellis of Jormungandr passing through no more than 75 rooms but no less than 25 in one run (No warp glitch, New Map on load)
1 (1) of 247
(0.40%) players

Defeat Ellis of Jormungandr within 45 seconds from starting the fight (No warp glitch, New Map on load)
1 (1) of 247
(0.40%) players

Enter Uroborus the first time
1 (1) of 247
(0.40%) players
Defeat Fafnir of Lindwurm and retrieve their lottery ticket (Knight, No warp glitch, New Map on load)
14 (11) of 247
(5.67%) players

Defeat Samsara Fire God of Shootingstar and retrieve their lottery ticket (Knight, No warp glitch, New Map on load)
4 (4) of 247
(1.62%) players

Defeat Leocadia's Toys of Jabberwock and retrieve their lottery ticket (Knight, No warp glitch, New Map on load)
2 (2) of 247
(0.81%) players

Defeat Forbidden Honahora of Quetzalcoatl and retrieve their lottery ticket (Knight, No warp glitch, New Map on load)
2 (2) of 247
(0.81%) players

Defeat Ellis of Jormungandr and retrieve their lottery ticket (Knight, No warp glitch, New Map on load)
1 (1) of 247
(0.40%) players

Defeat Fafnir of Lindwurm and retrieve their lottery ticket (Fortuner, No warp glitch, New Map on load)
1 (1) of 247
(0.40%) players

Defeat Samsara Fire God of Shootingstar and retrieve their lottery ticket (Fortuner, No warp glitch, New Map on load)
1 (1) of 247
(0.40%) players

Defeat Leocadia's Toys of Jabberwock and retrieve their lottery ticket (Fortuner, No warp glitch, New Map on load)
1 (1) of 247
(0.40%) players

Defeat Forbidden Honahora of Quetzalcoatl and retrieve their lottery ticket (Fortuner, No warp glitch, New Map on load)
1 (1) of 247
(0.40%) players

Defeat Ellis of Jormungandr and retrieve their lottery ticket (Fortuner, No warp glitch, New Map on load)
1 (1) of 247
(0.40%) players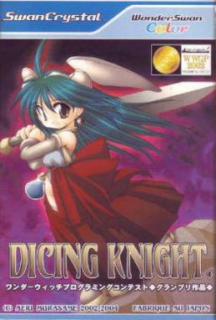 Achievement Distribution
Leaderboards
Reach the highest floor without dying using the Knight.

Annonith
2

Reach the highest floor without dying using the Fortuner.

Annonith
2